Basket overview
The basket is empty!
Coffee People values people
Coffee farmers, roasters and lovers are all members of one great tribe that we have the greatest respect for. It's in our DNA to value the activities of farmers and to ensure they're paid a fair price. At the same time, coffee lovers are equally important to us. We don't want to let them down with a mediocre drink — at any cost. We truly put our heart and soul into our coffee!
Our "tribe" was founded by Annar Alas and Heili Politanov — two internationally recognized and certified coffee judges whose noses find even the rarest pearls in the coffee world. And it's these rarities that you'll find at Coffee People. It's home to coffee experts with unique skills and experienced palates who just love coffee. And, by the way — they're all really cool people too.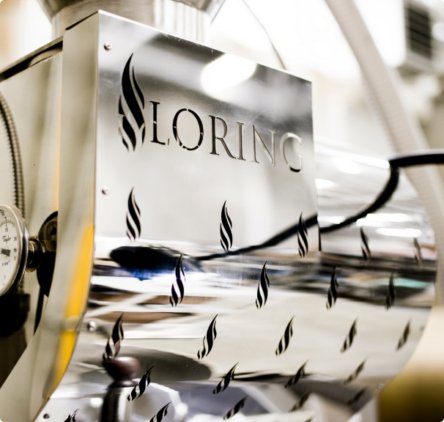 Roasted smartly and sustainably
Coffee is just like a mathematical operation with several variables. If one variable disappears, the others lose their value as well. Thus, the taste of coffee depends on three equal components: the highest quality raw product, i.e. coffee beans, the roasting process (that highlights the beans' richness and nuances), and the skills of the barista.
But how do we make sure all coffee lovers experience that real coffee feeling? At our roastery, we roast coffee with a high-tech Loring roasting machine that circulates hot air to heat the beans. This prevents evaporation of the oxygen, which allows the beans to keep their flavor. While the hot pans in regular roasting machines burn the beans, the Loring roaster gives every individual bean the time and attention it deserves. And did you know that Loring's roasting method saves 85% heat compared to other equipment? It helps us to reduce our ecological footprint, which is crucial for our tribe.
Meet with our roast master
It's no secret that there are only a few roasters in the world who scientifically analyze their processes at the precision of a millisecond or millidegree. We're glad that Coffee People has a team member who embodies the mindset: "a good coffee lies on precision and perfection" — our roasting master, world-class food biochemist, and coffee expert with a degree in molecular biology, Johan Rohtla.
Johan, a true coffee whisperer, understands the soul of heated beans. He spends his days in the laboratory researching the links between caffeine content, roasting, and brewing. The result? Delicious coffee with an exceptionally clean taste, ready to put a smile on coffee lovers' faces the world over.
Direct trade business model
Quality comes at a price, which is why we pay fair prices for our purchases. Our purchase prices are much higher than the world market price level. As such, we demonstrate that we value coffee producers, and we motivate them to follow traditional cultivation methods of organic coffee. It's also close to our hearts that coffee farmers constantly strive to improve the quality of their yields. And it's not just coffee farmers who benefit from this financial incentive, but also their families, for whom coffee is often the most significant source of income.
Illustrations
We have developed two separate lines of coffees: one for retail and the other for the HoReCa sector. Each package features a unique illustration by Estonian storybook and fashion illustrator Marju Tammik. The illustrations were inspired by the countries in which the coffee is grown and drawn using a Japanese brush and paper. You can easily distinguish the retail coffee line from the HoReCa line – the retail packages bear animal illustrations, while the HoReCa ones feature faces.
Produced with a mission
A delicious coffee aroma is what keeps us going. Our number one priority is creating coffee that puts a smile on your face and a kick in your step. From growing coffee beans to the sustainable packaging of our coffee, responsibility is at the core of everything we do. It's a great feeling if you know exactly what's in your cup or thermos.
At Coffee People, we make high-quality coffee widely available and accessible — offering a delicious and responsibly made alternative to unknown mass-production brands. Coffee lovers can follow the whole journey of our coffee beans, all the way from distant fields to the most irresistible aromatic cup of pure joy.
Our success Stories
2017
CSR
Parim CSR (Corporate Social Responsibility) projekt Läänemere maades
2017
KULDMUNA
Advertisement award Kuldmuna 2017 EPRA prize for Best CSR Project.
2017
PR Impact Awards
First place for best social responsibility project.
2016
Carciogenic free roasted coffee
Estonian Health Board certificate for Carcinogenic Free coffee roasting.
2016
Swedish business awards
Swedish Business Awards 2016 Sustainable Growth First Place.
2010
"The Best New Coffee Company"
Chosen by the Specialty Coffee Association of Europe and the Specialty Coffee Association of America as the world's best new coffee company.